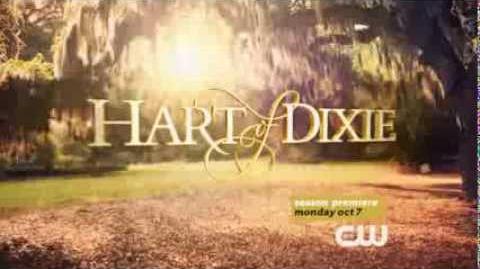 It's coming.. but it's not here yet!
This page is dedicated to
"Season Three"
, an upcoming new episode.
Updates to this page may be frequent, and information will be added as it becomes available.
Season Three

Season
Episodes
Three
20+
Aired
October 7, 2013 - May, 2014

It was announced on April 26, 2013 that the show was renewed for another season.
Spoilers for this season will be posted here.
Zoe returns.
Lemon and Wade will pretend to be a couple.
TBA
Season
Episodes
Originally Aired
Season premiere
Season finale
3
20+
October 7, 2013 - Who Says You Can't Go Home

May 2014- "3x2?"
Episodes List
Edit
Series #
Season #
Title
Original air date

Ep Code

45
1
Who Says You Can't Go Home
October 7, 2013
301
Zoe returns to Bluebell with her boyfriend. Everyone hates her because she sent them an email saying she was leaving forever. Zoe has to get Brick to sign a reference for her to a doctor in New York. Zoe also misses everyone. AnnaBeth is still with Levon. Levon's cousin, Lilly, is in town and is getting on everyone's nerves. Meanwhile, no one has talked to George since he left for his tour. Brick and his fiancée broke up and Lemon is sleeping with an unknown man. Tansy moved on with the attorney of Filmore and George is upset. Will Zoe stay in bluebell forever?
46
2
Friends in Low Places
October 14, 2013
302
This episode is a whodunit. George tries to figure out who is dating. Lemon and Wade are pretend dating to get Zoe out of bluebell. Zoe and her boyfriend are dating. Will George find a girlfriend?
47
3
Take This Job and Shove It
October 21, 2013
303
Trying to avoid a confrontation with Brick, Zoe begins discreetly seeing patients in BlueBell again. But her plan goes awry when George informs her she has a non-compete clause in her contract that prevents her from practicing for a year in the town. Lavon is thrilled at the chance to bring a minor league baseball team to BlueBell, but needs Brick's help to woo the team's owner. Elsewhere, Lemon finds herself in hot water with the Belles after she tries to overthrow the current leader. Meanwhile, George finds himself needing medical attention during a tutoring session with Lynly, forcing him to call Zoe for help.
48
4
Help Me Make It Through The Night
October 28, 2013
304
After Lemon's fallout with the Belles, she is blacklisted from the Junior League Halloween Masquerade party, so she calls her Grandma Bettie for help and lands herself a date with another of Alabama's most eligible bachelors. Lavon has a big surprise for his anniversary with AnnaBeth, but when she has a health scare, she turns to Zoe to help her out. Meanwhile, during the party, George has to do damage control with the town judges and Wade keeps finding himself in trouble with ineligible ladies.
49
5
How Do You Like Me Now?
November 4, 2013
305
Zoe is blissfully happy when she sees how well Joel is adjusting to BlueBell, until, she learns the townspeople might have a different opinion of him. Wanting to make things better, Zoe volunteers herself and Joel to chaperone the Go Girl Tween Adventure Camp, but when Joel refuses to go along, she is left to fix the the town's perception on her own. After a rough start with Lynly, George is pleasantly surprised when he learns they work well together. Meanwhile, Lavon is desperate to be part of the Gazebos of Alabama calendar, but when a crucial flower mistake jeopardizes his plan, Lavon begs Lemon to help save the day.
50
6
Family Tradition
November 11, 2013
306
Zoe and Joel are ready to find a more permanent place to live and find the perfect place is actually owned by a relative of Zoe's biological father's relatives. After tracking the relative down, Zoe is unsure whether she is ready to face her extended family. Due to the success Lemon and Wade have had with the Rammer Jammer, Lemon receives an offer that she may not be able to refuse. AnnaBeth seems eager for Lavon to go out of town, causing him to wonder what she is up to. Meanwhile, George and Lynly's connection continues to grow, but George is still reluctant to make a move.
51
7
I Run To You
November 18, 2013
307
Zoe begins to grow leery of how much time Joel and Wade hang out, especially when it begins to interfere with Joel's writing. Ready to blame it all on Wade, Zoe does her best to entice Joel back into writing. Lavon is using the excuse of coaching his track team to avoid talking to AnnaBeth. Meanwhile, Lemon encourages Brick to start dating again. George and Lynly discuss whether they want to talk to Lavon about their feelings for each other.
52
8
Miracles
November 25, 2013
308
This episode is the mid-season finale episode. Zoe meets Joel's grandmother and meets her paternal uncle. Zoe and Joel's relatives bond and start romacing.  Zoe's relative/cousin (the same relative that gave Zoe a cold shoulder in episode 3x06) doesn't like the new romance between her father and Zoe's boyfriend's grandmother.  Later in the episode, Zoe's cousin meets Wade again and both seem to like each other.
53
9
Something to Talk About
January 13, 2014
309
This episode is the winter premiere episode. It will premiere in early January, 2014. All the main characters are set to return for this episode.
54
10
Star of the Show
January 20, 2014
310
55
11
One More Last Chance
January 27, 2014
311
56
12
Should've Been a Cowboy
February 3, 2014
312
57
13
Act Naturally
February 10, 2014
313
58
14
"3x14
March 21, 2014
314
59
15
"3x15
March 28, 2014
315
60
16
"3x16
April 4, 2014
316
61
17
"3x17"
2014
317
62
18
"3x18"
2014
318
63
19
"3x19"
2014
319
64
20
"3x20"
2014
320
65
21
"3x21"
2014
321
 66
22
"3x22"
May 16, 2014
322
This is the season three finale episode. It will premiere in middle May, 2014. All the main characters are set to return for this episode. 
Promotional Photos
Edit
This will be the third season.
The show moved back to Mondays for the first thirteen episodes.  Then the show will be relegated to Fridays for the last nine episodes.
The episode count will be over 20.  There will be 22 episodes
It will premiere on October 7, 2013 and end sometime in May, 2014. 

In June 2013, it was announced by the CW that the season 3 premiere will air on October 7, 2013 and end in May 2014.

The CW announced that the show will move back to Mondays in the fall for its third season having been paired with Beauty and the Beast.