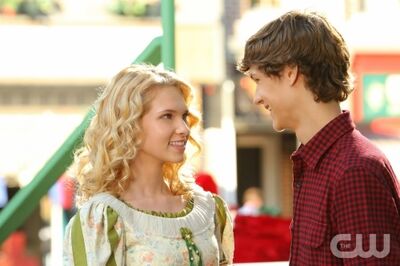 The relationship between Magnolia Breeland and Frederick Dean.
Season One
Edit
Frederick Dean and Magnolia attended the Founder's Day Parade together, though Frederick checked up on Rose Hattenbarger after the crashing floats debacle (Parades & Pariahs). Magnolia and Frederick Dean were both present at the lake party, and Frederick Dean was among those who helped get a very drunk Magnolia into Jacob Coburn's car to take to Dr. Hart and was very concerned for her health (The Undead & The Unsaid). During the Miss Cinnamon Cider Pageant season Magnolia referred to Frederick Dean as her boyfriend, telling Rose to "find her own contest, and her own boyfriend" and Frederick Dean was clearly awestruck by Magnolia 's performance (Hairdos & Holidays).
It's unclear what happened between the two from this point forward, though when Rose is in the hospital, Magnolia is overheard confessing her guilty feelings to a preacher that she only wished Rose would die because she was jealous that Rose had 'stolen' Frederick Dean , not because she meant it.
Rose Hattenbarger: Frederick Dean is going to the parade with Magnolia Breeland.
Zoe Hart: Lemon 's sister? Good grief.
Rose Hattenbarger: Which totally explains why he hasn't noticed me.
(Parades & Pariahs)
Ad blocker interference detected!
Wikia is a free-to-use site that makes money from advertising. We have a modified experience for viewers using ad blockers

Wikia is not accessible if you've made further modifications. Remove the custom ad blocker rule(s) and the page will load as expected.