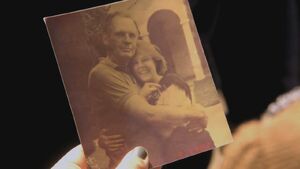 This article is about the relationship between Harley Wilkes and Candice Hart.
Season One
Edit
Harley and Candice met on a Greek Cruise in the early 1980s, where they become involved in a love affair. However, Candice describes the experience as a fantasy, and after the cruise ended returned home to New York to marry her fiance, Ethan Hart . The pair were married in 1982, and not long later welcomed a new baby, Zoe Hart , into the world- however, this child was actually that of Harley Wilkes. Candice chose to give Zoe a father from 'their world' and led both Zoe and Ethan to believe they were truly related- a plan that began to unravel ten years later when Ethan proved not to be a genetic match to Zoe .
It is as of yet unknown how Harley discovered he had a daughter, since Candice Hart gave no sign to either Zoe or Ethan , that anything was amiss. It is also unclear whether Candice knew that Harley attended Zoe 's graduation from medical school and offered her a job, or if she had any knowledge of the postcards he sent. Candice isn't forced to share the truth of Zoe 's paternity with her daughter until Zoe is 28, and Harley passed away. In her words, the affair "wasn't real, it was a fantasy" (Pilot).
Ad blocker interference detected!
Wikia is a free-to-use site that makes money from advertising. We have a modified experience for viewers using ad blockers

Wikia is not accessible if you've made further modifications. Remove the custom ad blocker rule(s) and the page will load as expected.