Alice Breeland
Comment

1
571pages on
this wiki
"
You, sweetie- oh, you have that fire burnin' inside of you, just like me, and you are going to want more out of life, and well, you should let yourself have it. 'Cause if you don't...well, that is a disappointment you will live with forever.
"
Portrayed by
Meredith Monroe
Alice Breeland is the former wife of Dr. Brick Breeland, and estranged mother of Lemon and Magnolia Breeland.
Alice was married to Brick Breeland, with whom she had two daughters- Lemon and Magnolia. (Read more about Brick and Alice here.) Alice and her daughter Lemon were very close, and to Alice's dismay, Lemon aspired to be everything her mother was- head cheerleader, Miss Cinnamon Cider pageant winner, mother, and wife.
Alice left twelve years prior to the start of the show, when her daughters were sixteen and two, respectively, to follow her dream career as an actress.
Daphne, AL
Edit
It hasn't yet been proven, but can be assumed that the man and young child seen with her in
Daphne, Alabama
are Alice's new family (
Hairdos & Holidays
).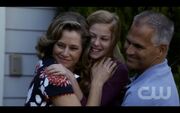 Past Involvement
Edit
Alice left her husband, Brick, and their two daughters to pursue her career as an actress, though it seems that career was unsuccessful based on the review Lemon saw in the newspaper, written about a play- 'A Doll House'- which her mother starred in, held at a theater in Daphne, Alabama, by the Daphne Theater Company (Hairdos & Holidays).
Notes/Trivia
Edit